"Yellow Passion Fruit"
10 Yellow Passion Fruit Seeds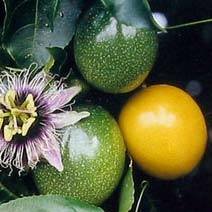 10 FRESH THAI YELLOW PASSION FRUIT SEEDS PASSIFLORA FLAVICARPUS SWEET TROPICAL
Passiflora are climbers with three-fingered leaves and so attractive you'd want to grow them in your conservatory if you live in an area of severe frost. They can take mild frost, though the leaves (and perhaps the stem) will be killed back to the ground; however it should shoot again from the roots when the frost is past.
The first true leaves of Passiflora are almost heart shaped, and it is not until they have produced maybe 10 sets of leaves that they first show finger-shaped leaves.
At this stage it is worth offering the plants some support in their pots, in the form of a stick, as they will be throwing out tendrils looking for something to hold on to as they begin their climb.
They can reach twenty metres in the right environment and in a very short time as they are extremely vigorous climbers.
The flavour is appealing, very sweet, musky, guava-like.
Seeds are planted 1/2 in (1.25 cm) deep in beds, and seedlings may be transplanted when 10 in (25 cm) high. If taller–up to 3 ft (.9 in)–the tops should be cut back and the plants heavily watered.
Regular watering will keep a vine flowering and fruiting almost continuously. Least flowers develop during the winter season due to short day length. Water requirement is high when fruits are approaching maturity. If soil is dry, fruits may shrivel and fall prematurely
Passion Fruit vines are grown on many soil types but light to heavy sandy loams, of medium texture are most suitable, and pH should be from 6.5 to 7.5. If the soil is too acid, lime must be applied.
Good drainage is essential to minimize the incidence of collar rot
$2.30
---